Celebration in Omicron Alpha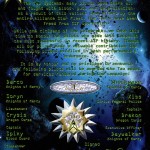 At the end of hostilities last week, the Alliance Star Fleet held a ceremony, honoring the brave and mourning the lost, at the same time celebrating the success of the operations against the CSF. The Omicron Alpha System, a key strategic position in all operations that regard the Tau systems was the place chosen for the celebration. Small ASF task forces surveilled all ways in and out of the system as the forces that fought in the Tau systems last week were joined by ASF high ranking officers on planet Malta. At the end of the ceremony, Lt-Cornel Ancalagon awarded the bravest with the "Tau" Medal.
Among the decorated heroes were Liutenant Crysis and Captain Drakon from the Dragon Corps, SFP Chief of Police Gunny and Officer Xiss, Captain Spiky from Blood Guard and last but not least Council Knight Darco and Council Knight Daywalker, Knight Ist Class Soryn and Optio Shockwave.
In respect for the ASF presence in the system, as well as the "no-smuggling" policy of some of the ASF factions, Outcast leaders have officially ordered the halting of all smuggling operations as long as the ASF fleet is in the system. One can only wonder…what does the word "official" mean to a pirate and will the Outcast planet still be in the same place when the ASF fleet will relocate?
Audio clip: Adobe Flash Player (version 9 or above) is required to play this audio clip. Download the latest version here. You also need to have JavaScript enabled in your browser.